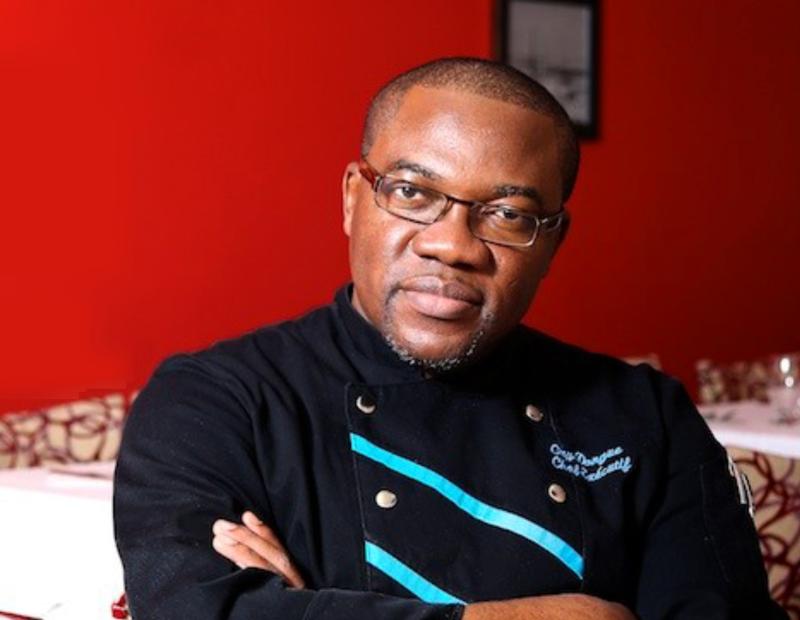 Our Chef
Cameroon-born Executive Chef Guy Dongué's journey started in "Little Africa", a popular nickname given to this Central African country that is home to a rich ethnic, cultural, geographical and culinary diversity. His unique cuisine celebrates his African heritage with a gourmet twist, by exquisitely blending the art of French cooking with exotic flavours that will take your taste buds on a memorable journey.
His mother's cooking has been his greatest inspiration and paved the way to a lifelong passion and career. "My mother truly instilled in me the love of cooking," said chef Guy Dongué. "Growing up, I could spend countless hours watching Mama Julienne cook, asking her questions about the different ingredients, tasting her dishes, learning and absorbing everything I could."
This passion took a new turn when he moved to Paris as a teenager to join his aunt. Living in what many consider the world's gastronomic capital opened up a whole new world of culinary possibilities for the soon-to-become chef. For nearly 15 years, he learned his way around the kitchen through an haute cuisine training at some of the finest hotels in Paris and London. But it was ultimately in Canada that his culinary talent truly blossomed. First in Montreal, where he settled in 2008, then Ottawa and Toronto, he climbed the culinary ladder, holding several managerial positions and working for prestigious hotels including the Queen Elizabeth II Hotel and the luxurious four-star Place d'Armes Hotel in Montreal.
Convinced that nutrition and physical activity can help fight obesity, sedentary lifestyle and cardiovascular diseases, chef Guy Dongué founded Cuisine Santé des Canadiens in 2012 – a non-profit organization that promotes the benefits of cooking using fresh, local ingredients and sharing nutritious, healthy family meals as a key to a healthy lifestyle.
As a father, chef Guy Dongué is particularly committed to providing to Canadian children their best chances of living a healthy life. His passion for cooking is his way to achieve that purpose. In 2014, he launched Kids Cuisine Santé, a school catering company with a mandate to serve up delicious, healthy, culturally diverse school meals that kids love. In addition to preparing lunch meals for schools and daycares, chef Guy Dongué provides training and guidance to students in Toronto, – preparing them for successful careers in the culinary and hospitality industry – in Cameroon and other African countries as well.
The young gastronome who developed a passion for all things culinary learning from his beloved "Mama Julienne", is now giving back to the cultural communities that have helped shaped his journey, with top priority to providing healthy meals to the younger generations. Feeding our children food prepared using local, seasonal, fresh ingredients; providing them with high-quality, nutritious meals and snacks that taste as delicious as they look; and making mealtime fun; is chef Guy Dongué's way to inspire and empower our children to make healthy food choices.